TFIF!
After some thought and a visit to my local Walgreens, I ended up buying two lip colors for my goth night, tomorrow night! And can I just say THANK THE STARS FOR WET 'N WILD COSMETICS! Ha-ha! It's all I could afford, y'all! But I am quite pleased with what I found & bought:
MEGA LAST® LIP COLOR which has a matte finish and lasts for 4 hours! In these colors:

919B Vamp It Up


911D Stoplight Red
They look much more dramatic in-person, I can assure you. And for $2 each, no worries!
I also got their MEGA LENGTHâ"¢ MASCARA in blackest black. For $3? How could I say no? Plus, I don't know how old my other mascaras are and I figure it's better to be safe than sorry. Haven't tried the mascara yet, but I am excited to give it a go.
My next issue is eye makeup! I have always wanted to try something like this:
But I just can't see to work it out. Never comes out as planned and generally I get frustrated, wipe it all away and stick with a simple black liner. I think one of my biggest problems in this realm is that my eye brows are so light. Not thin, mind you, I keep them pretty natural, only plucking strays as needed. The result is just shy of bushy, I think. So most gals pencil their eye brows or just go over their own with a dark liner. On me? Um, it looks way wrong!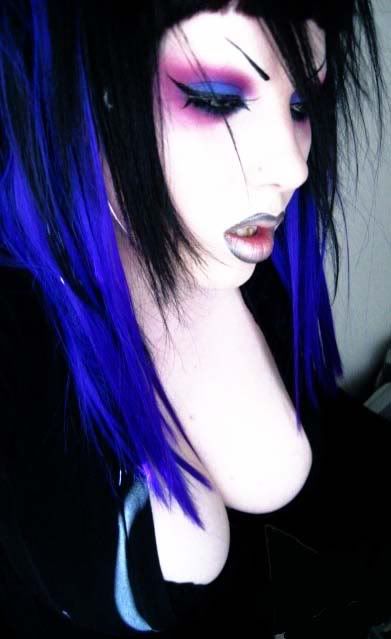 I love this, but WOW! That looks like a lot of work! I won't have a ton of time to get ready. Like an hour? Including hair and outfit, which I have yet to put together. Maybe tonight I'll figure out the clothing aspect and work on the rest.

But, I get very obsessed with symmetry trying to do these things. My husband hates it when I'm trying to create a look, he just knows how intense I get and well, frustrated, too!

So I turn to your expertise or advice on this topic that so eludes me. I only go goth clubbing twice a year, but perhaps I'd go more if I had a better style.

It does always turn out to be a positive experience. One time I was even recognized! I think I was in my mega-rad striped skirt that one time and this gal walks up and goes, "Aren't you Notblueatall?" So crazy & cool! I felt like a celebrity! Ha-ha! But she was super sweet and we hung out all night! She even came to my cafe a few times.

So if you do recognize me, please speak up! Don't be shy! I love meeting new people. =0)

Thanks for reading and for any advice/tips/suggestions you may have. YOU ROCK!





6 Comments to